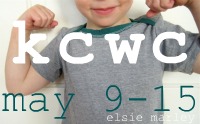 This time last year I stumbled upon Kids Clothes Week Challenge on Elsie Marley, and I had every intention of joining in...but didnt.
This year, I almost dont have a choice...my kids have out-grown all the hand-me-downs from their cousins (and actually are bigger than most of their cousins now!) and I can't really let them run around naked, even if the weather is finally warming up!
For the challenge, you're supposed to sew an hour a day on kids clothes. My personal goal is to sew an hour a day
per child
. I have a tendency to want to make fun girly outfits for my 3 year old, but my two boys need clothes MUCH more than she does!
Here's last night's hard work:
I got a few yards of stretchy knit from the thrift store awhile back, so I thought I'd try to make some easy t-shirts. It would have helped if I'd thought to take my kids' measurements before I sent them to bed last night! I ended up re-doing a lot after trying them on the kids this morning.
I also cut out a pair of shorts for my 2 year old (it took an hour because I had to print the pattern too - more on that for Day 2s post!) and I sewed them up this morning, only to realize they were JUST BARELY to small!
The good news is, they'll make great pants for the baby!