Sundays are always a challenging day around here. Church starts at 9am, which is just about the time my kids are ready to be running around and playing.
So, I've tried to find some creative ways to keep them entertained and (mostly) quiet.
Using my huge stash of felt, I cut out a variety of shapes like circles, triangles, squares, etc. Originally these shapes were meant for a quiet book, but during one tantrum that involved felt pieces flying everywhere, we discovered that they will stick to the back of the pew in front of us! My kids love lining up the shapes, and my daughter is old enough to start sorting them by color or shape, so its an educational activity too.
This last week I made them Felt Faces.
One for each of them, of course, since they still aren't big on sharing. (They grow out of that stage, right?!)
This was a quick and easy project, I cut it out while watching a TV show with my Man (Monk, if you were wondering). I glued the eyes together with Tacky Glue, but everything else is just cut.
Both my toddlers were excited to try it on Sunday. My 3 year old did pretty good getting the body parts in the right place; my 2 year old did more of the Picasso thing. But hey, it was entertaining for a good 10 minutes, which is quite an accomplishment for him!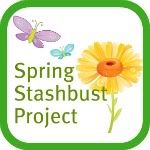 I know
technically
I did this project before the Spring Stashbust started, but it is busting my Stash, so I think it counts!