I've been doing a lot of things with t-shirts lately, leaving me a nice big ol' bag of these:
T shirt scraps. They're big enough pieces that I can't bear to throw them away, but too small to use for any of the bags or clothes I've been making lately.
I'm also 37 weeks pregnant, and the doctor says I could go any time...so yes, I am in baby mode. Big time. Which led me to make this....
Butterfly Mobile! (With my two year old Munchkin, of course...who should have still been in bed since it wasn't even 6 am yet!)
I've seen a number of buttefly mobiles lately, most of them made from scrapbook paper. And I love them all! But I dont have hardly any scrapbook paper, and even if I did I'd have to go to my mom's to use her Cricut...so I got creative and used what I had on hand. (Mostly.)
First off, I took this idea from Sew She Sews'
polka dot crib mobile tutorial
. (Seriously, click on that link and check out her mobile...if I wasnt so in love with butterflies right now I would have done the polka dots like she did!) Anyways, I had just found two embroidery hoops at goodwill for $.50 each, and then got home and realized that the screw in one didnt work quite right. But it would work PERFECT for this mobile!
And, I confess, I did run to the craft store to pick up one little thing that I didnt have on hand...
...miniature clothespins. This isn't the smallest size they had, I think they are 1 3/4 in. Then I spray painted them white.
Then there's the T shirt scraps. Just alone, they would be too floppy to really look like butterflies, so I took one layer of scrap, put some Heat'N'Bond on it, then adhered it to another layer of scrap.
Then I spent what felt like FOR-EV-ER finding a butterfly template I liked (I ended up tweaking a few to make my own) and tracing and cutting out 14 butterflies.
Here they are with the clothespins clipped on:
The most tedious part was tying them on...I just used white thread. I knotted around the middle of the clothespin, then tied it to the embroidery hoop. I tried to stagger to create a "random" effect...I'm not so good at random. But I think it turned out alright.
And this is what the baby will see:
I think I'll be replacing this ribbon with either plain white or light pink ribbon - again, just using what I had on hand.
Well, its a hit with my Munchkin at least!
Sorry, I know enough pics already! But I just can never get enough of this little blue-eyed wonder (I have brown eyes, so it may be borderline jealousy) and her fascination in anything I make!
UPDATE: I'm entering this in Iron Crafter Round 7: Clothespins!
And, in case you're wondering...my baby turned out to be a boy. But he still likes staring at the butterflies! (I'm thinking of re-doing them but in boy colors. But we'll see.)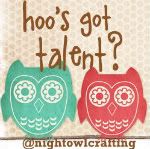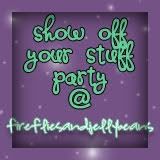 I'm also linking to
Craftastical's
Share a Craft Link Party!