A spin on the old trace-your-hands-and-turn-it-into-a-reindeer-picture...my Monkey is always in need of bibs, so why not a festive one?
The front is vintage cordouroy, the back is a white T-shirt, and the reindeer is made from various scraps I had laying around.
I even handstitched his name and the year on the back, so I can remember which kid this was actually for!
(Showing this totally goes against the whole "code name" thing...hmmm. Too late now.)
I think he likes it. At least, he's always trying to eat it!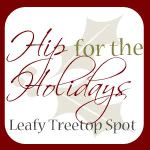 /